From North Wales Wildlife Trust on Saturday 1st May:
Brenig Osprey Project partners woke up this morning to the worst possible news. Last night, at 21.42, someone took a chainsaw to the osprey nest and felled it. This is a fast-moving situation and we'll issue more news of the birds when we can – please, please be kind to Dwr Cymru/NWWT staff this weekend as we work out how to respond to this horrific act of vandalism.For a start – if you have any information that can help us identifying the individuals responsible, please let us know or contact the police with crime reference 2059734.
From BBC Wales, on Sunday 2nd May: https://www.bbc.co.uk/news/uk-wales-56957549 . North Wales Wildlife Trust is hoping to attract the Ospreys back to continue nesting.
From BBC Wales on Wednesday 5th May:
Extra security measures may be brought in to protect ospreys after their nest site was cut down with a chainsaw.
Conservationists replaced a platform destroyed on Friday at Llyn Brenig, which borders Conwy and Denbighshire. An existing platform was opened to the birds on Saturday but the original platform has now been replaced. Staff at Brenig Osprey Project say they will establish what security measures can be put in place if the birds decide to use one of the platforms.
There are five pairs of ospreys in Wales and the birds and their eggs are protected under the Wildlife & Countryside Act which makes it an offence to interfere with them or their nest. CCTV cameras recorded the moment the platform was deliberately cut down. It has been branded a "disgusting act" by Rob Taylor, rural crime team manager for North Wales Police.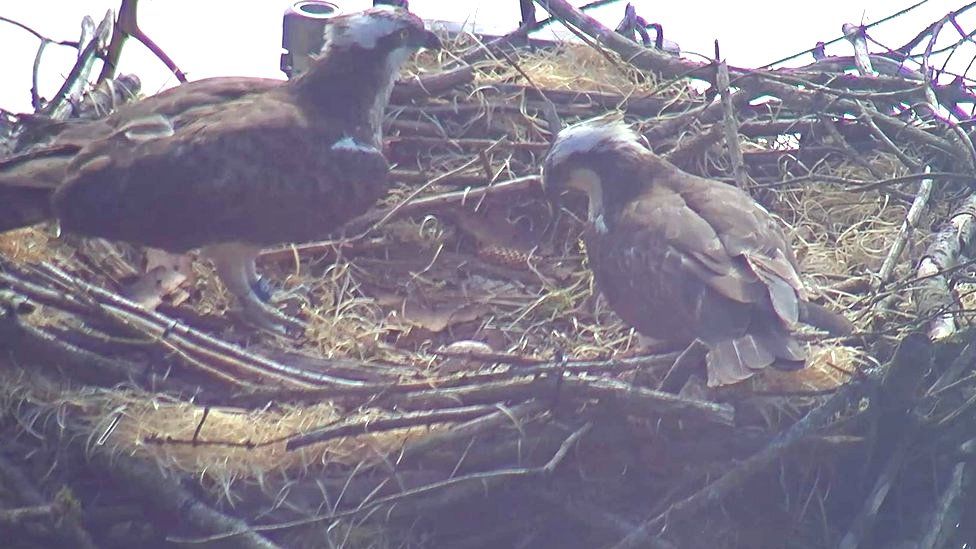 The female had laid an egg a day before the nest was destroyed so a decoy egg was put on a second nesting platform which was reopened by conservationists on Saturday.
The project team, which is a partnership with site owners Welsh Water and North Wales Wildlife Trust, said Sunday was spent constructing a further platform. It has since been erected at the site of the original nest in the reservoir. "The aim is to give the birds a choice of two nest sites, including something as close as possible to their original," they said in a Facebook update. "Once it becomes clear which, if either, nest site the birds choose, we will establish what security measures can be put in place to protect them."
On Sunday, BBC Springwatch presenter Iolo Williams said people would be "delighted" if the birds were still able to breed this season, "although that doesn't take away from this idiotic act of vandalism".
This has not been a good year for Welsh Ospreys. Whilst the Llyn Brenig birds have remained around, there is no clear sign of them attempting to nest again and Greylag Geese promptly built a nest on the renewed platform. Disaster also struck at Glaslyn at the beginning of June, with the male injured and unable to hunt, and as a result all three chicks have died.
The Brenig Osprey project now has one of its cameras working again (repaired after a lightning strike) and this can be watched on YouTube.
Related Topics